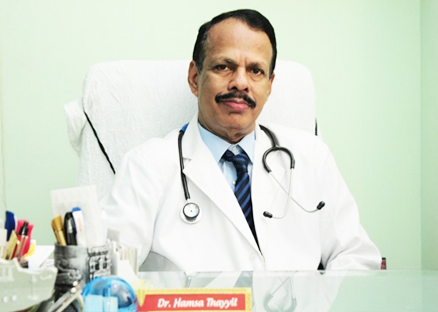 DEPARTMENT OF UROLOGY
DR. HAMZA THAYYIL,
MBBS,MS,MCh(Uro), Consultant Surgeon and Urologist,
The driving force behind this hospital is a well known urologist with more than 30 years experience in treating all urological disorders, male infertility and Sexual dysfunction.

The Department deals with various aspects of the renal system viz: Kidney, Urethra, Bladder and Male Sexual Organs. The centre is reputed for management of stone: Uretero Renoscopy, PCNL, is routinely done here. Apart from Kidney Stones, Urological Tumours, Viz: Kidney, Bladder & Prostate Cancer are managed and effective treatment protocols instituted. The most common problem in elderly male – prostate enlargement is tackled by most modern methods – TURP – and patient discharged home in 3 – 4 days.
Read More
Infertility among married couple is on the rise. Here in Shiba, both the partners are taken care of by the Andrologist and Gynaecologist simultaneously, thereby offering the couple the best chance of success. Procedures like EVA; Vasoplasty has been quite handsomely rewarded in success rates in Shiba Hospital.

Erectile dysfunction, a very common, but treatment is not sought because of timidity, anxiety and other social phobias is comprehensively and effectively treated in a most hospitable circumstances, with the patient free to come out with his grievance without fear. Penile implant Surgery, more than 50 implants has already been done here with satisfactory clientele. We have two other urologists, who joined our institution very recently adding to the strength of the department and round the clock.
MBBS, M. S (Gen. Surgery) M.ch (Urology)

Dr. MUHAMMED ASLAM C. K.

MBBS, M. S (Gen. Surgery) M.ch (Urology)

Dr. ABDUL HAMEED P. C